Human Hair Wigs by Amoy Couture Hair
Custom made to order, Human Hair Wigs For Women of All Cultures and Hair Texture
Celebrity stylist Amoy Pitters is a hair extensions expert known throughout the industry for her own line of couture hair. In order to meet the needs of her diverse New York City clients, she developed Amoy Couture Hair, a line of wefted bundles for hair extensions, wigs and hair pieces. From her hair salon and showroom on Lexington Avenue, she hand-crafts and customizes wigs for her celebrity clientele. And now, you can purchase an Amoy Couture Custom Human Hair Wig - without a trip to New York City.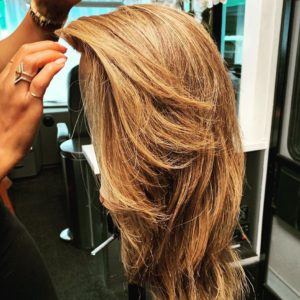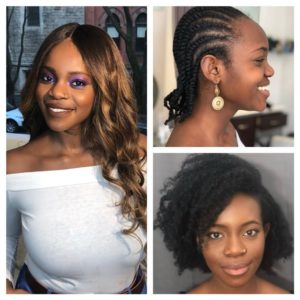 Custom Human Hair Wigs by Amoy Pitters and Amoy Couture Hair
Amoy Couture Wigs are are the most modern, stylish human hair wigs available. After all, this is New York City! And, because Amoy has a full service hair salon, she can customize the color and style of the hair for each wig, based on your needs.
100% human hair
Straight, body wave, Italian curl, curly, and kinky curly
Lengths from 10 in to 30 inches
Lace wigs for comfort and natural looking partings
No bonding or glue, you don't have to shave your head
Fool proof measurement process you can do at home
Made to order and shipped to you
Human Hair, Quality and Construction
Fashion wigs and hair extensions are a popular choice for those looking for a natural-looking, customizable hair replacement and style enhancement. Because these wigs are made from real human hair, they can be curled, straightened, dyed or lightened just like your natural hair.
Here are a few things to consider when buying a wig:
Type of hair: Wigs can be made from synthetic hair or human hair. Amoy uses 100% human hair for her wigs. Human hair wigs can be cut, colored and styled just like your natural hair.
Quality: The quality of the wig depends on factors such as the thickness of each strand, the number of strands per inch, and the level of processing the hair has undergone.
Construction: Amoy Couture wigs are made with a lace cap construction. Amoy prefers to use a lace cap because it is more delicate against the scalp. It also creates a very natural look along the hairline and at the parting. For this reason, lace wigs generally more expensive the tradition cap wigs.
Maintenance: Even through you remove your wig before bathing and sleeping, your human hair wig will require regular washing and styling just like your natural hair. It's important to follow our wig maintenance instructions. A well cared for human hair will last you a very long time. You should get many years of enjoyment out of your human hair wig.
How much do human hair wigs cost?
Human hair wigs are more expensive than synthetic wigs, and the cost will depend on the amount of hair and length of hair used, and any customization for the texture and color. Our hair comes in a natural, dark color so it will more than likely need to be adjusted, either with all over color or highlights, to match your style. We will cut and style your wig to match your desired style. Following your consultation, we will provide you with an exact cost of the wig.